EL PAÍS English Edition summer intern

Henry Hahn

reflects on his time abroad and the differences between interning in Spain and in the US
As I wrap up my final week of an incredible internship at EL PAÍS (and a life-changing summer abroad), preparing to return to the United States for my final year of college, I can't help but fixate on one of my favorite films of all time: Mike Nichol's 1967 classic
The Graduate
. More specifically, I'm compelled to think of its opening title sequence, in which Dustin Hoffman, returning home from college, drifts along a moving walkway against a bland white wall at LAX airport, set to Simon and Garfunkel's "The Sound of Silence." The opening scene is a portending metaphor for how adolescent life in America can be viewed as a forced pathway – a straight line, on which you are almost vacuously propelled forward from the time you are born, with little purpose and little choice for direction – only to be thrown out into the wild upon graduating from college.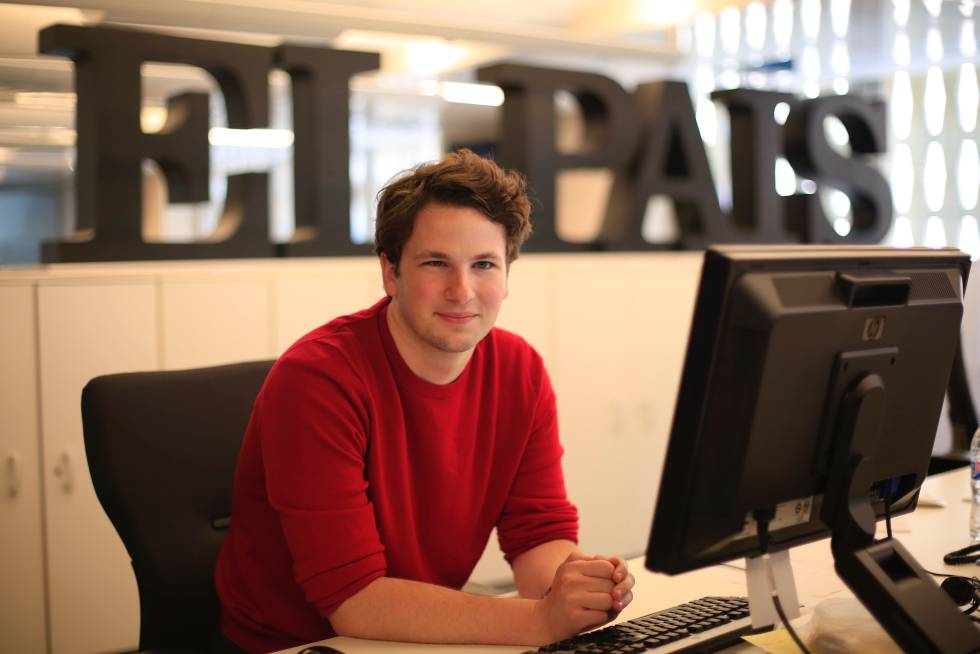 Though the film was made 50 years ago, the statement feels more pertinent than ever. Through the succeeding decades, it seems that the capitalist obsession on fixed paths in America has only intensified – that the infamous walkway of adolescence has only been elongated and accelerated.
Today, American students seeking admission to prestigious universities are advised to spend their high school summers engaged in an assortment of jobs, internships, and academic programs. The expectation continues through college summers, as students strive to secure coveted internships to bolster their resumes in time for graduation. The ideal maneuver is to land a gig at a large corporation the summer before your senior year – say, at a bank, a consulting firm, or a tech company – in the hopes of being given a return offer on your last day, saving you from the job search frenzy of senior year. Hence, the smoothest of transitions that allows the moving walkway to carry on, unimpeded.
Two of my initial roommates when I arrived in June were biology students who had just graduated from the Autonomous University of Madrid, which boasts the best program in the field. One had just received her undergraduate degree, the other, his master's. Both were working in coffee shops. Lacking nearly perfect grades, they were left jobless and contemplating grad school (yet, understandably, struggling to find the funds to pay for it). They resentfully attributed the absence of available jobs to a lack of investment in the sciences by the ruling PP party.
One friend told me that it's almost impossible to secure a full-time job with less than two years experience as an intern first. If you try to switch companies in the middle of this process, you're often forced to start from square one. As a result, he ended up staying on an extra year as an intern at a company he didn't enjoy working at to avoid demotion. He also took issue with the quality of work offered to young employees here. While applying for internships at many large American tech companies, he noticed that their Spanish branches often merely wanted interns to do dirty work – number crunching and basic data analysis – a notable contrast from the more educational and holistic internship programs offered in the US and elsewhere.
Though he had hoped to transition to another job with a better salary, he was unsuccessful in his search and forced to return home. Even a bachelor's degree and EU papers, fluency in three languages (English, Spanish, and Swedish) and previous work experience in the country were apparently not enough to expect a living wage in a high-skill job.
Nor can young Spaniards easily just pick up and move to another European country. I initially had just assumed that EU nations function exactly as states do in America, but it's not a perfect analogy. Without the right connections or superior grades, it's often difficult for a Spanish student to secure a well-paid, high-skill job in another country without prior work experience first. So moving abroad after school often just means waiting tables in a different country.
Regardless, I find myself in quite the predicament. I would love to return to Spain when I finish school. It's been a remarkable experience, and I don't think I've had enough. But I only want to come back on the pretense of having a comfortable job – an aim that seems unattainable as a Spaniard, let alone an American lacking EU papers.
Perhaps it's time to step off the moving walkway for real, entering the real world without concern for how much money I'll make and without an immediate answer to what I'm going to do with my life. We'll have to see if the work-obsessed American in me is up to such a task. I still have a year to decide. Until then, I'll just be drifting along – like Dustin Hoffman – bleakly contemplating the void that not only awaits me, but that awaits many of the friends I have made here as well. Despite whatever sobering realities it has forced me to confront, the time I've spent in Spain and the people I've met here are far too special to ever forget. (El País English edition,30.08.17)