This blog is an online publication of words, sounds, pictures and moving images. I have created this interactive site to increase your exposure to the English language and/or supplement your presential English course with language structures, challenging new readings, TED talks, trailers, quality videos, thought-provoking posts, news, quotations, food for thought and icon links to related websites or to the cloud.
Saturday, January 23, 2016
This Australian short film will definitely get you thinking!
Monday, January 18, 2016
Spanish students enjoying a barbecue in Byron Bay, Australia
Se triplica el número de españoles que se decantan por ese país, que ofrece un visado de estudiante que permite trabajar.
Hace un mes que Manuel Sevilla, madrileño de 25 años, aterrizó en
Sidney
. Con una doble titulación en Periodismo y Comunicación Audiovisual, sus expectativas de encontrar un
empleo cualificado
en España eran nulas. Sus ahorros, unos 5.000 euros, le servirían para cruzar el charco y asentarse en
Estados Unidos
o
Canadá
y así perfeccionar su inglés para abrirse nuevas puertas en otros mercados internacionales. Su proyecto se frustró; ninguno de los dos países concede visados de estudiante que permitan trabajar de forma legal al mismo tiempo, y 5.000 euros no dan para tanto.
"No me podía mantener sin un trabajo y tuve que buscar otras opciones. Descubrí que en Australia sí se puede y casi nadie lo sabe", cuenta Sevilla desde su nuevo apartamento en Sidney, la ciudad más grande y poblada del país, donde convive con 4,2 millones de personas. Desde 2009
se ha triplicado el número de jóvenes
españoles que han escogido
Australia
como destino para mejorar su inglés o matricularse en otro tipo de programas académicos; de los 534 visados de estudiante que el Gobierno australiano concedió en el curso 2008-2009, se pasó a 1.786 en el ejercicio 2013-2014, lo que representa un aumento del 334%.
El Student Visa australiano, que cuesta unos 350 euros, permite estudiar un máximo de cinco años y trabajar 20 horas a la semana, no más. El requisito para conseguir el visado es matricularse de un curso, que oscila entre los 100 y los 250 euros a la semana, y pagarlo antes de tramitar la solicitud. La duración del visado será la misma que la del programa de estudios.
VISADO 'WORK AND HOLIDAY'
Además del S
tudent Visa
, el Gobierno australiano lanzó en 2014 el
visado Work and Holiday
, otra opción a la que solo se pueden acoger jóvenes de entre 18 y 30 años que permite residir durante un año en el país, trabajar a tiempo completo y estudiar un máximo de cuatro meses. A diferencia del otro visado, para este no es un requisito matricularse de ningún programa académico. A partir de julio de este año se abrirá el cupo de solicitudes con un máximo de 500 visados para españoles.
Es necesario acreditar un nivel de inglés de 4.8 en el
IELTS
(lo que equivale a un
First
de Cambridge) y un mínimo de dos años de FP superior o de un grado universitario.
A Manuel Sevilla le salen los números. Tras varias semanas de búsqueda de empleo en la web
gumtree
, ha conseguido un puesto de limpiador en un bloque de viviendas por el que gana unos 1.600 dólares australianos al mes, unos 1.100 euros. Paga 800 dólares (515 euros) por una habitación en un piso compartido y le quedan unos 500 euros para gastar al mes. Eso sí, tuvo que anticipar el pago del curso de inglés: 3.400 euros por ocho meses. "En España ganaba 2,5 euros la hora como becario y aquí unos 17. Ha merecido la pena la aventura", relata el joven sobre su primera experiencia fuera de España.
Otro de los requisitos para adquirir el visado es contratar un seguro médico homologado por el Gobierno australiano, que ronda los 30 euros al mes. El resto es comprar el vuelo, alquilar una habitación, abrir una cuenta bancaria y, lo más importante, tramitar el número de la seguridad social australiano, llamado tax file number, que permite trabajar en el país.
"AQUÍ HAY MENOS ESPAÑOLES QUE EN OTROS PAÍSES DE HABLA INGLESA"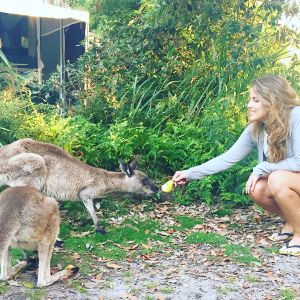 Mirea Morell, barcelonesa de 30 años y licenciada en Psicología, dejó su trabajo fijo en el departamento de recursos humanos en una consultora para perfeccionar su inglés en Australia. Hace seis meses que llegó a Sidney junto a su pareja y ambos lo han hecho a través delStudent Visa.
"Una de los puntos fuertes de Australia es que hay menos españoles que en otros países de habla inglesa europeos", asegura. En su segunda semana encontró empleo como camarera. "Hay que tener un buen nivel de inglés para encajar en un empleo cualificado. Lo bueno es que los sueldos en el sector servicios son muy altos comparados con España, van de los 1.400 a los 1.800 euros al mes", relata.
El aluvión de estudiantes que han llegado a Australia en los últimos años ha hecho aflorar compañías lideradas por españoles que se encargan de asesorar a los jóvenes en todo el proceso, desde la elección del curso que mejor se adapta a sus necesidades, hasta la búsqueda de casa y el resto de trámites burocráticos.
Australian Way
o
Aussieyoutoo
son algunas de ellas."No les aseguramos que vayan a encontrar trabajo, cada uno se tiene que poner las pilas y recorrer los comercios con su currículum", explica Eduardo Casado, cofundador de Australian Way, que desde 2010 ha ayudado a 2.300 españoles a dar el salto.
"Ha sido un
boom,
no me lo esperaba. Lo empecé como un pasatiempo para ayudar a otras personas y ahora puedo vivir de ello", cuenta
Marta Caparrós, CEO de Aussieyoutoo, de 31 años, que desde que lanzó el proyecto en 2012 ha llevado a 1.400 españoles a Australia.
Su fuente de ingresos no son los estudiantes, a los que no cobra por el servicio, sino los acuerdos que ha firmado con más de 50 centros educativos australianos, que le pagan una comisión por cada alumno que les deriva.
¿Cuál es la ventaja del estudiante a la hora de contactar con una de estas compañías? "Les guiamos en la tramitación del visado paso a paso y en tiempo real con una llamada por
Skype
, les compramos los vuelos con la vuelta abierta y con 10 kilos más de lo permitido por pasajero y les recibimos en la ciudad a su llegada para acompañarles a hacer todos los trámites burocráticos", explica Caparrós. "Los que estén pensando en venir tienen que tener muy claro que aquí somos inmigrantes; limpiamos, cuidamos niños... a quien se le vayan a caer los anillos, mejor que escoja otro destino", añade.
El País
, 19 de enero de 2016