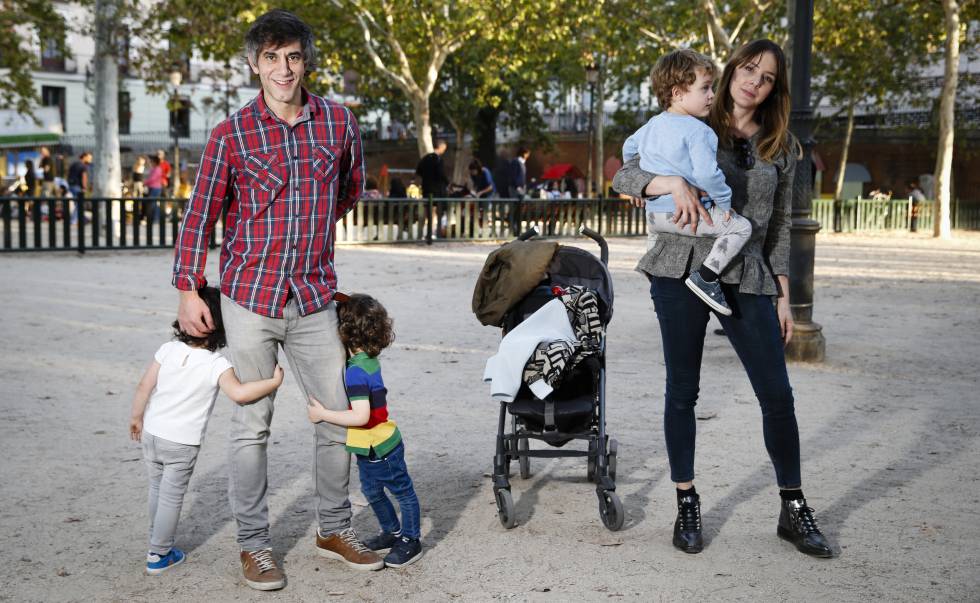 Cuando se enteró de que su mujer estaba embarazada de mellizos, Tomás Bastarreche lo tuvo claro: él y su madre le hablarían a los niños en inglés. "Luego, a la hora de la verdad, a mi madre no le salió, pero a mí sí, sin problema". Desde la infancia de Tomás, la familia de Bastarreche se interesó por que aprendiera el idioma y pasó varios veranos en Estados Unidos. Sus mellizos, Javier y Matilde, de dos años, ya entienden lo que les dice con su marcado acento español.
Por su parte, Carol Rodríguez se animó a hablarle en inglés a su hijo Eric una vez lo tuvo en brazos. "Me encanta el idioma, que me costó aprender, y decidí hacer la prueba durante un par de semanas a ver qué tal me sentía. Y no se me dio mal".
"Hablarle a los hijos en inglés cuando no se es bilingüe requiere un gran sacrificio", dice Valeria Ávila, logopeda en
Sinews,
un centro de Madrid que ofrece terapia (psicología, psiquiatría, logopedia y terapia ocupacional) en varios idiomas y organiza talleres periódicos para padres que tratan de criar niños bilingües (el próximo, este sábado). "Tiene que ser una decisión muy firme y madurada entre la pareja para que el niño sepa cuál de los dos le va a hablar en qué idioma".
Tanto Bastarreche, profesor de Derecho Constitucional en la Universidad Autónoma, como Rodríguez, azafata de Iberia, son unos enamorados del inglés, y poder darles a sus hijos la posibilidad de aprenderlo desde la cuna les pareció una idea estupenda. "Como dice mi mujer, es una inversión de futuro", añade Bastarreche. "Lo que no puedo es cortar las expresiones que me salen naturales en español y les digo: "Venga, let´s go to the park", añade. "Yo no he querido cortar los apelativos cariñosos que no me salen naturales en inglés", interviene Rodríguez. "Le digo "bichito, eat a little more".
Desde el British Council, la coordinadora María Pipeneda, trilingüe (habla griego, inglés y español), dice que la máxima para los padres que se están planteando hablarle a sus hijos en inglés debe ser "cuanto antes, cuanto más y cuanto mejor, mejor". "Y hay que tener una actitud positiva. Que sus hijos vean que sus padres también disfrutan con el idioma. Que le cantan, se lanzan a hablarlo…".
El sevillano Alex Pérez, que le habla en inglés a su hijo de dos años desde que nació, ha creado la web www.crecereningles.com y en septiembre lanzó un curso para los padres que como él toman esta decisión. "Vi una necesidad de información y he lanzado 10 clases por las que se paga una suscripción mensual de cinco euros", explica Pérez. "Espero ayudar a otros padres que estén haciendo como yo", explica Pérez. "Yo no soy nativo y tengo una limitación. Pero eso no me corta, porque él va a aprender más que si no le hablara en inglés y sé que algún día me superará".
Una de las dudas que tiene es con qué acento hablarán sus respectivos hijos cuando crezcan. "El acento de los padres no influye nada", dice Ávila. "Los niños están programados para adquirir otro idioma y animamos a todos los padres, tengan el acento que tengan, a hablarles en inglés". "Hay muchos acentos en inglés, que es un idioma global", añade Pipedes. "Lo que están construyendo es una base que posteriormente irán afinando". Tomás va más allá: "Yo incluso a veces soy consciente de cometer errores cuando hablo con mis hijos. Pero es un riesgo que asumo. Espero que algún día se den cuenta de cómo es en realidad", ríe.
Sus expectativas futuras, son compartidas: que un día sus hijos se dirijan a ellos en inglés. "Estaría bien si más adelante quisieran que fuera nuestro lenguaje común, pero no es necesariamente mi objetivo. Lo que tengo claro es que yo les seguiré hablando en este idioma". (El País, 16.11.17)